What Would 007 Think of This? Shaken Not Stirred!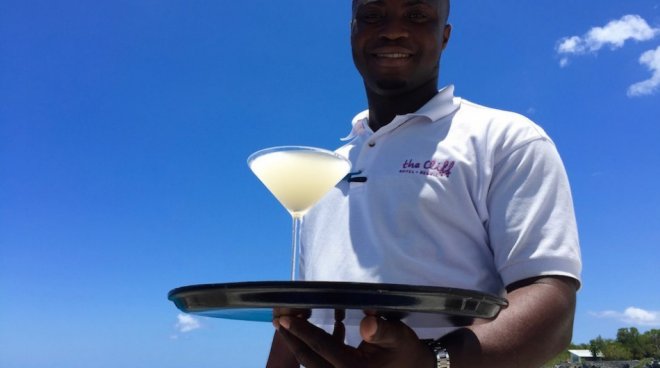 A martini is just a martini. Unless it's made with the delectable Jamaican fruit, soursop. And then it's heaven on earth.
Find out for yourself at The Cliff, a five-month-old resort in Negril, Jamaica where bartender Ryan "RayRay" Hammond will whip you up the fruity libation faster than you can say, "Make mine a double."
The tropical martini is, of course, best enjoyed under an umbrella-shaded chaise on the resort's slice of ironshore coast, which offers a front-row seat for Negril's daily sunset spectacle. However, RayRay was generous enough to share his special recipe, under one condition: That you make a plan to swing by The Cliff and taste his version for yourself.
No problem, RayRay. As they say in Jamaica: "Soon come."
The Cliff's Soursop Martini
Ingredients
1 shot vodka
2 ounces soursop juice
squeeze of fresh lime
Method
Put all ingredients in a shaker with crushed ice, and shake vigorously. Pour into a chilled martini glass, and enjoy.
If you want to experience Ray Ray's special Soursop Martini, call Your Personal Travel Organiser and I will be happy to organise this wonderful trip for you!