Caribbean Holidays
The British Virgin Islands
Unspoilt, uncrowded and uncommercialised – this is the British Virgin Islands – the way the Caribbean used to be 30 years ago. Your Personal Travel Organiser can offer varying types of accommodation from small and inexpensive to 5 star deluxe hotels and Richard Branson's own Necker Island. The sailing is arguably the best in the world and the diving spectacular.
Click here for information on the British Virgin Islands
The Sugar Mill Hotel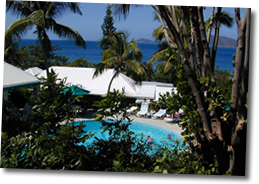 A small intimate boutique hotel situated in Apple Bay on the north shore of Tortola, with its own beach and snorkelling reef.
Your Personal Travel Organiser can offer comfortable accommodation with either king-size or twin beds, en-suite facilities, balconies with ocean and garden views, fridge, microwave, coffee maker (coffee provided), ceiling fans, air-conditioning, iron and ironing board, hairdryer, bathrobes and slippers and direct dial telephone. Some rooms have cable TV.
Breakfast is included at the Sugar Mill and they also have an excellent All Inclusive package.
There is a shaded swimming pool for relaxation and a good selection of books for guests to borrow.
Sugar Mill boasts one of the finest restaurants in the BVI offering gourmet food and fine wines. Lunch can be taken at "Islands" – the hotel's own beach restaurant situated right on the water's edge.
Click here for more information and photo gallery
---
Guavaberry Spring Bay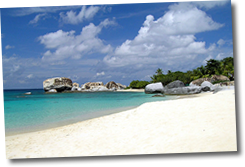 Situated a few minutes stroll from stunning white sand beaches on beautiful Virgin Gorda, these one, two and three bedroom cottages on stilts are perfect for a totally relaxing holiday.
Guavaberry Spring Bay Apartments are set in lush tropical gardens amidst huge natural boulders, the accommodation is elevated affording spectacular views of the Caribbean sea.
Guavaberry has a commissary (small store) for their guests' exclusive use where groceries, such as fresh bread, locally homemade meals, breakfast items, wines, beers, snacks and a host of other items can be purchased.
Books and games are provided for guests' enjoyment and internet access is available throughout the property.
The stunning white sand beach can be reached via a path from the tropical gardens.
There is a good choice of restaurants a short drive away and Guavaberry is also close to "The Baths" where the snorkelling is excellent.
Click here for more information and photo gallery
---
Antigua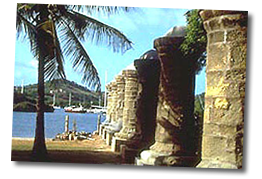 Antigua has 365 beaches, one for each day of the year. The great majority rest inside the calm, protected waters of the island's Caribbean side, and visitors are welcome.
Nelson's Dockyard on Antigua is like a little piece of Britain in the sun. Admiral Horatio Nelson arrived in 1784 to develop a base for the British Navy at English Harbour. Today Nelson's Dockyard has been completely restored, and it is now the only Georgian dockyard in the world. Your Personal Travel Organiser can arrange for you to explore this remarkable location – it is like stepping back in time.
Click here for more information and photo gallery
---
The Copper and Lumber Store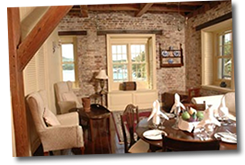 The Copper and Lumber Store hotel is situated in the centre of Nelson's Dockyard in one of the original buildings constructed by Lord Nelson during 1784 and consists of 14 suites or studios. The rooms are beautifully finished with period furniture and fittings – it is truly like from a bygone time.
The beach is just over 5 minutes walk and there are some great restaurants close by.
This is a really great, intimate little hotel, with a difference, situated at the heart of English history.
Click here for more information and photo gallery
---
Jumby Bay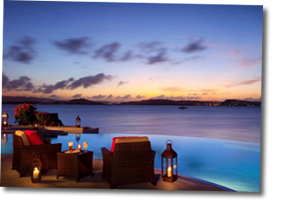 Jumby Bay, a Rosewood hotel, is situated on a 300-acre private island just off the coast of Antigua – a setting that has to be seen to be believed.
Offering stunning white sand beaches and beautiful views, Jumby Bay has only 40 rooms and suites spread across nearly a third of the island. All very private and extremely spacious and luxurious. At the Bungalow Beach Bar, guests find cocktails, cold water and fresh towels at the ready and if you don't feel inclined to shift from your chosen island perch, just raise your hand and a cooler with iced water, delicious daiquiri or tray bearing a selection of freshly made fruit sorbet will be brought to you.
Jumby Bay has tennis courts, fitness centre, 2 swimming pools and for each room, 2 bicycles are provided if guests feel inclined to fit in a little exercise. There are three restaurants offering first class cuisine.
Come – allow your Personal Travel Organiser to arrange your visit to Jumby Bay and experience this secluded island paradise.
Click here for more information and photo gallery
---
The Inn at English Harbour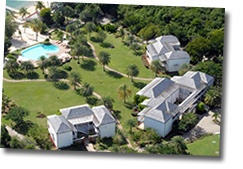 The Inn at English Harbour is a beautiful boutique hotel with only 28 rooms and stunning views over tropical gardens and the white sand beach.
The Inn has 4 Beachfront rooms where you can "fall" out of bed and be in the sea in seconds for that early morning swim.
All rooms and suites offer a private veranda or terrace, ceiling fan, air conditioning, safe, cable TV, mini-bar, hairdryer, flat screen TV, IPod station and internet access, and are luxuriously furnished.
Complimentary activities include tennis, fitness centre, kayaking, snorkelling and laser sailing. Complimentary green fees are also offered at the Cedar Valley golf course on Antigua. Guests just pay for the transportation between the Inn and the course and hire of clubs if applicable.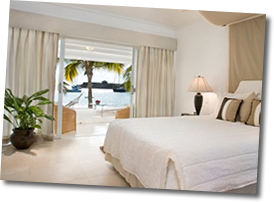 The Reef Restaurant is on the beach and open for breakfast and lunch and the Terrace Restaurant at The Inn at English Harbour is possibly one of the most romantic spots on Antigua to enjoy a candlelit dinner.
For that relaxing massage or facial, a visit to the Spa is a must. They offer a wide range of treatments to energise or relax you – the choice is yours.
The Inn at English Harbour is a truly amazing hotel in a really stunning location.
Click here for more information and photo gallery
Your Personal Travel Organiser can arrange holidays on any Caribbean island. Call or e-mail with your request.
[Not a valid template]