Scenic Train Journey to the Land of the Midnight Sun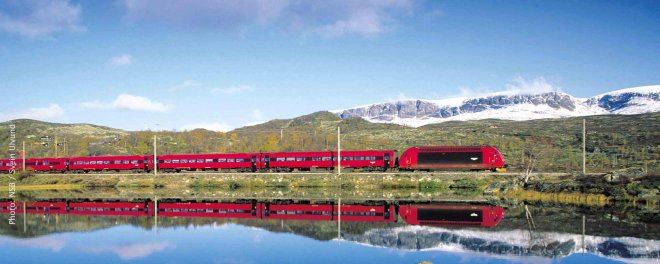 Quickly becoming an extremely popular rail holiday this is a magnificent 8 night holiday into the land of the midnight sun visiting Stockholm, Bodø, Trondheim and Oslo along the way.
The Arctic Circle Train – Stockholm to Narvik This train leaves Stockholm in the early evening, heading north passing through the cities of Uppsala, Sundsvall and Umeå before heading inland and crossing the Arctic Circle into the land of the midnight sun with dense forests, wide rushing rivers and some beautiful coastal scenery, especially around the High Coast. The stretch between Boden and Narvik is the route of the famous Iron Ore train. Kiruna is home to the world's largest underground mine and these mighty trains are regularly seen transporting their heavy cargo to the ports of Narvik or Luleå. Spectacular Arctic scenery and the famous gateway to the mountains, Lapporten, as you cross the international border at Riksgränsen from Sweden to Norway.
The Northern Railway – Bodø to Trondheim Arguably the most famous train in Scandinavia with truly amazing coastal and mountain scenery as you cross the Arctic Circle. This is geographically the narrowest part of Norway and mountains rise out of the sea in this region. Snow-capped mountains, enclosed bays, 44 stations, 293 bridges and 154 tunnels all feature along the longest rail route (729km) in the Norwegian network. Simply magical!
The Dovre Railway – Trondheim to Oslo This is a journey through scenic national parks, deep mountain valleys and features Gudbrandsdalen valley and the mighty Dovrefjell mountain range with the track rising to 1000m above sea level and the mountains towering above. You will also pass Mjøsa, Norway's largest lake and many wooden station buildings worthy of a quick photo when the train stops. A diverse journey from the ancient capital to current capital city with a vast expanse of beautiful scenery in the middle.
Departures – May, June, July, August
To book this amazing holiday call us today!